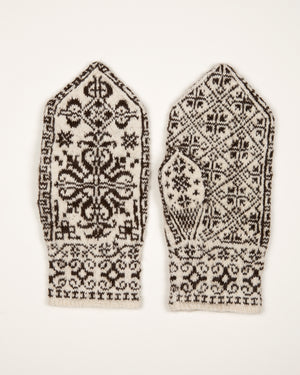 STRIKKEPAKKE · KNIT KIT
HERREVOTTER FRA HÅGGÅBAKKEN (SE 1937)
Sale price Price 550,00 kr Regular price Unit price / per
Tax included.
STRIKKEPAKKE
Kopi av Herrevotter fra Håggåbakken, Selbu Bygdemuseum (SE 1937).
Denne strikkepakken leveres med det flotte garnet 'Fin Gammel Selbu' fra oss på Selbu Husflidscentral, skånsomt behandlet og spunnet av ull fra lokale sauer av Selbu Spinneri.
Finnes også som kun mønster
KNIT KIT
Copy of mens mittens from Håggåbakken. Selbu Knitting Museum (SE 1937)
This knit kit come with the beautiful 'Fine Old Selbu' - a laceweight yarn from us at Selbu Husflidscentral, it is carefully treated and spun of wool from local sheep by Selbu Spinneri. 
Here you can find the pattern 
 NB.  This pattern is only available in Norwegian.