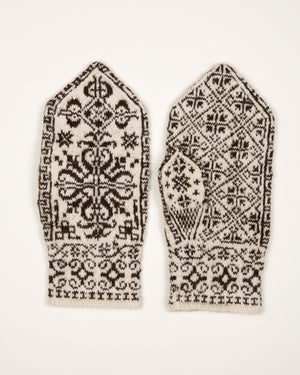 SELBU HUSFLIDSCENTRAL
HERREVOTTER FRA HÅGGÅBAKKEN (SE 1937) · mønster
Sale price Price 80,00 kr Regular price Unit price / per
Tax included.
MØNSTER

Kopi av Herrevotter fra Håggåbakken, Selbu Bygdemuseum (SE 1937).
Disse vottene er også tilgjengelig som strikkepakke.
I boken SELBUVOTTER av Anne Bårdsgård kan du lese at disse vottene ble strikka av Guru (Håggåbakken) Hårstad (1888-1969) pikenavn var Kulset. Guru ble gift med Nils Kr. Hårstad og sammen fikk de tre barn. Selbu telefonsentral holdt til på Håggabakken fra 1895 og frem til rundt 1930 og Gurus mann ble i dagligtale kalt ‹Nils Sentrala›. Vi vet ikke hvor mye hun strikket for salg, men strikkingen var nok en kjærkommen inntekt til hjemmet - og at hun var en dyktig strikkerske levner disse vottene i hvert fall ingen tvil om!
  ·  
PATTERN
Copy of mens mittens from Håggåbakken. Selbu Knitting Museum (SE 1937)
 Also available as knit kit

 NB.  This pattern is only available in Norwegian.
In the book SELBU MITTENS by Anne Bårdsgård can you read that these mittens were knitted by Guru (Håggåbakken) Hårstad (1888-1969) whose maiden name was Kulset. Guru was married to Nils Kr. Hårstad and they had three children together. Selbu telephone exchange (central) had its place on Håggåbakken from 1895 up until 1930 and Gurus husband was called Nils 'the central'. We don't know how much knitting she sold but it was probably a dear income for the family, and that she was a skilled knitter leaves this pair no doubt about!