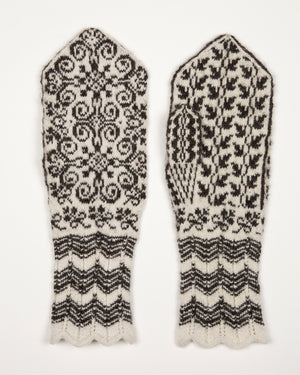 STRIKKEPAKKE · KNIT KIT
Damevotter med verhånnros
Sale price Price 550,00 kr Regular price Unit price / per
Tax included.
Kopi av gamle damevotter med verhånnros. Ca. 1900. Selbu Bygdemuseum (SE3012)

Strikkes i 'Fin Gammel Selbu' - garn fra Selbu Husflidscentral. Fin Gammel Selbu ble utviklet av Selbu Spinneri i samarbeid med Anne Bårdsgård under arbeidet med boken Selbuvotter. Det ble lagd for å kunne strikke opp de aller eldste vottene som ble funnet i Selbu. Garnet er skånsomt behandlet, ikke farget og spunnet av ull fra lokale sauer. Kortreist og vakkert.
Dette er strikkepakken, men du kan også velge å kjøpe mønsteret separat, har du garn får du mønsteret som digital fil og sparer frakt.
 · 
Copy of old, women's mittens with Ram's horn rose. Ca 1900. Selbu Bygdemuseum (SE 3012)
Knit in Fine Old Selbu, a laceweight yarn from Selbu Husflidscentral in collaboration with Selbu Spinneri. Fine Old Selbu is a beautiful yarn that was developed by Selbu Spinneri together with Anne Bårdsgård during the work with her book Selbumittens. The yarn was made to be able to knit the oldest mittens found in Selbu. The yarn is not coloured, handled with care and spun with wool from local sheep.Sustainable and gorgeous.
This is the Knit kit, but you can also buy the pattern separately as a digital file and save shipping. NB. Only available in Norwegian.