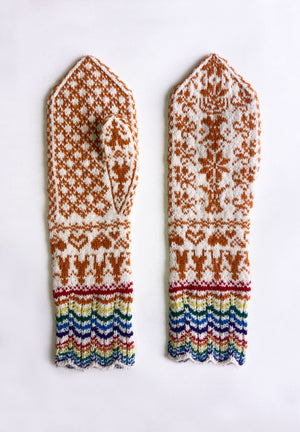 STRIKKEPAKKE · KNIT KIT
NEA
Sale price Price 390,00 kr Regular price Unit price / per
Tax included.
STRIKKEPAKKE · NEA
Strikkepakken inneholder mønster og alle regnbuens farger! NEA strikkes i lamull fra Rauma Ullvarefabrikk.
 

NEA er en kraft som strømmer gjennom hjertet og minner oss på at toleranse, mangfold og godhet er viktig og verdt å feire. Vi klemmer hender for at alle skal få være den de er og elske den de vil.
NEA er stolthet, en avansert hybrid som krever både tid og oppmerksomhet, like tradisjonell på langs som på tvers.

Denne votten og vekket er ikke enten eller - men både og, og er rett og slett bare himla fine votter for gode folk. NEA er å se, å gi og ta vare på hverandre. En vott til deg, meg og den som trenger følge til festen. Fra Neadalen til verden, takk for at du feirer sammen med oss - God Pride!

NEA feirer pride og 10 % av inntektene av hver vottepakke går til Neadals Pride.
NEA feirer pride og 10 % av inntektene av hver vottepakke går til Neadals Pride.
Design: Selbu Husflidscentral

  ·
KNIT KIT · NEA 
The knit kit contains pattern and all the colours of the rainbow! These mittens are knit in lambswool from Rauma Ullvarefabrikk.
NEA is a river with a force that flows through the heart and reminds us that tolerance, diversity and goodness are important and worth celebrating. We hold hands for that everyone can be who they are and love who they want.

NEA is pride, an advanced hybrid that demands both attention and care, and is just as traditional in length as in width. The wrist on these mittens are not either this or the other - but both this and that, and simply just lovely mittens for lovely people. NEA is to see, to give and to take care of each other. A mitten for you, me and anyone who needs a date to the party. From Neadalen to the world, thank you for celebrating with us - Happy Pride!
NEA celebrates pride and 10 % of the sale of every knit kit goes to Neadals Pride.
Design: Selbu Husflidscentral