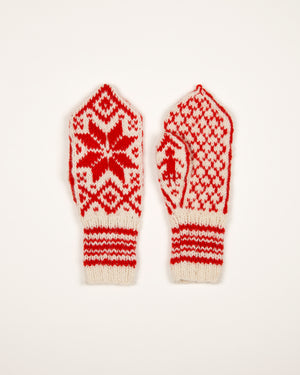 STRIKKEPAKKE · KNIT KIT
SHC Original · Barnevott nr. 110
Sale price Price 150,00 kr Regular price Unit price / per
Tax included.
STRIKKEPAKKE Barnevotter 2 - 5 år (2 tr.) eller 5 -7 år. (3 tr.)
Originalt mønster og fremgangsmåte fra den første Selbu Husflidcentral. Kan være redusert synlighet på deler av beskrivelsen. Egnet for erfarne vottestrikkere.

Garnet som følger med er 2-tråds Gammelserie eller 3-tråds Strikkegarnet, begge fra Rauma Ullvarefabrikk. 
 Finnes også som kun mønster
 · 
KNIT KIT Childrens mittens 2- 5 yrs (2-ply) or 5- 7 yrs (3-ply)
Original pattern and description from the first Selbu Husflidscentral. Might have reduced readability. Suitable for experienced knitters.
Delivered with 2-ply Gammelserie or 3-ply Strikkegarn - both yarn made by Rauma Ullvarefabrikk.
NB. The pattern is only available in Norwegian at the moment. Find the pattern here