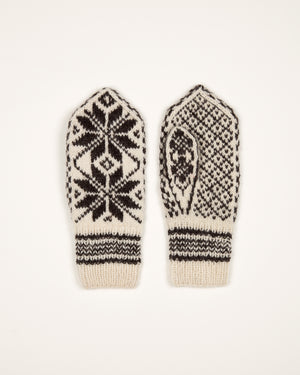 SELBU HUSFLIDSCENTRAL
Enkle damevotter nr. 18 · mønster
Sale price Price 80,00 kr Regular price Unit price / per
Tax included.
MØNSTER

Enkle damevotter nr.18 med den klassiske sjennrosa. 
Strikkes med 3-tråds Strikkegarn fra Rauma Ullvarefabrikk, 100 % norsk ull. Små i størrelsen. Vanligvis må du speilvende vottemønstrene selv og det har skjedd mang en glad vottstrikker å sitte igjen med to venstrevotter. Derfor har vi for å lette prosessen, enten du strikker ditt første par eller vil fokusere på pinnene, inkludert  mønster for både høyre og venstre vott for dette mønsteret. Lykke til! 
Pinne nr. 3,5.  

Omarbeiding av gammel oppskrift fra Selbu Husflidscentral: Anne Bårdsgård 
 Strikkepakken finner du her
· 
PATTERN
Easy women's mittens nr.18 with the classic 'selburose'. 
Knit with 3-ply Strikkegarn from Rauma Ullvarefabrikk, 100% Norwegian wool. These mittens are small in size. Normally you have to mirror mittens and the pattern yourself when yo begin the second, therefor it has happened to many happy knitters to proudly look at the finished pair only to realise they have made two lefthand mittens! So to ease the process, whether it is your first pair or the tenth, we have included pattern for both the left and the right mitten for this pattern. Best of luck!
Needle nr. 3,5. 
NB. Description only available in Norwegian
Adaption of old pattern from Selbu Husflidscentral: Anne Bårdsgård 
 Knit kit? Find it here